Smith Ranch Homes is nestled on 30 acres of land and is surrounded by the natural beauty of the oak covered hills of Marin County, California.  A life of ease awaits, bringing with it the comfort and satisfaction of life lived well. 
A Life of Beauty and Convenience
At Smith Ranch Homes you enjoy the soothing sights and sounds of waterfalls, meandering streams, and spring fed ponds.  A raised-bed community garden provides you with an opportunity to grow your own flowers and vegetables.  
Outdoor athletic activities include a putting green and bocce ball courts.  If you like a morning swim or simply relaxing in the sun, you can also utilize the 70-foot lap pool and sundeck.
At mealtime, catch a casual lunch with friends at the indoor and outdoor dining rooms.  You can join one of the many curated and guided activities and excursions.  You can also enjoy quiet hours in the library or playing cards with your neighbors in the game room.
Smith Ranch can fit your lifestyle.
community FEATURES
Formal or casual dining settings
Full bar and lounge
Conference room
Fitness center
Card and game room
Art studio
Library and reading room
Boutique
Hair and Nail Salon
Pool and Spa
Walking Paths
Putting Green
Lawn Bowling
Garden Center
Dog Walks
Smith Ranch Homes offers a broad range of activities for your enjoyment and convenience. Regularly scheduled activities include exercise programs, movies, writer's group, book club, art classes, special programs, concerts and events.
Group trips are arranged so that you can enjoy the latest plays and art exhibits, speaker series, Farmer's Market and many other places and events in the Bay Area. When you desire a change of pace, the shopping, entertainment, and cultural centers of Marin are only a few minutes away. You can attend the ballet, symphony, and live theatre performances practically next door at the Marin Center.  Excursions to San Francisco are also quick and easy.
Smith Ranch Homes Outdoor Cafe
Smith Ranch Homes Swimming Pool
Smith Ranch Homes Library
Smith Ranch Homes Bocce Ball
Good taste and good service go hand-in-hand at Smith Ranch Homes
Smith Ranch Homes takes pride in providing you freshly prepared gourmet meals in two fine restaurants.  If you would like to stay in, and don't feel like cooking, you can enjoy the conveniences of room service, take out service, or catering for your special occasion.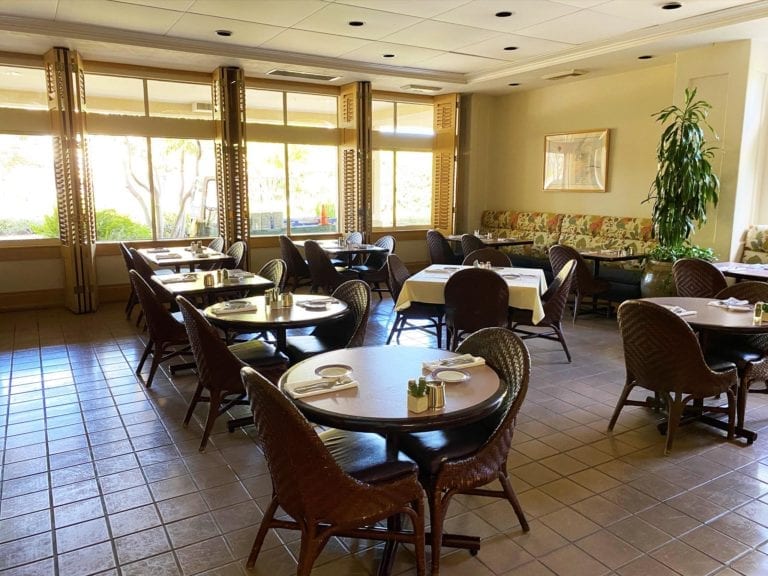 The Grille offers casual dining, featuring traditional and contemporary American cuisine.  Situated close to the pool, the location also provides a comfortable outdoor dining area.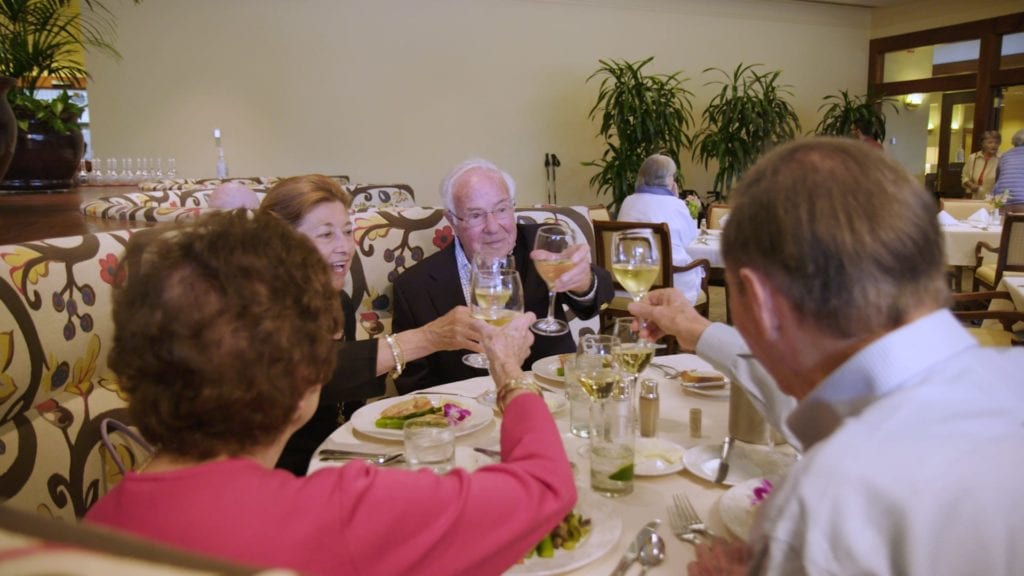 The Club Room features elegant dining, plus an extensive wine cellar. Efficient, experienced wait staff graciously present your choice of courses, all artfully prepared by Smith Ranch. On weekdays, a continental breakfast is served. On weekends, you may enjoy brunch featuring a wide selection of gourmet fare.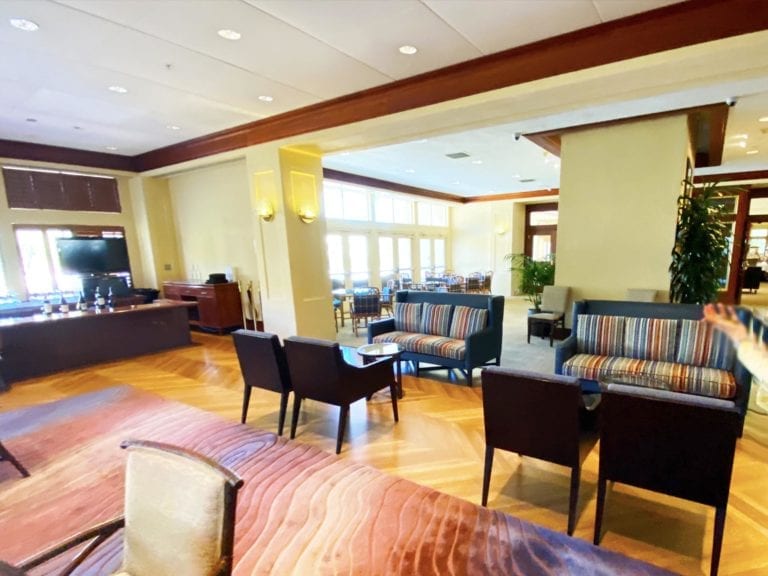 The Lounge offers a full bar, and provides a social setting to join friends and neighbors for conversation, cocktails, and  live music. The full service bar is available for all residents and their guests.
Smith Ranch Homes offers an array of high-quality services that allow you to spend your time doing what you find the most enjoyable and important.  Included in the monthly fees:
Dining services in the Club Room and the Grille
Weekly Housekeeping
Maintenance of common areas and grounds
Utilities: Water, gas, garbage, and basic cable television
Regularly scheduled transportation and activities
Underground parking and onsite valet services
The Villas feature 2-car attached garages
24-hour patrol services and emergency call service
Wellness programs
Weekly housekeeping
Maintenance of grounds and common areas
Scheduled transportation and activities
24-hour patrol and emergency call services
Wellness programs
Exercise programs
Writer's Group
Book Club
Art classes
Special Concerts
Birthday Events
Group trips to theater, art exhibits, ballet,  and farmer's markets
Utilities: water, gas, garbage, basic cable
Underground parking and onsite valet services
Villas feature 2-car attached garages
Swimming pool
Gardens
PATROL SERVICES -
SAFE AND SECURE
State of the art security system and procedures have been incorporated into the design of Smith Ranch Homes. Patrol Services are provided 24 hours by personnel at the main entrance and closed-circuit cameras are focused on all other gates to ensure that everything is safe and secure.  
Each residence is equipped with a 24-hour emergency response system. When the system is activated by a Resident, a Patrol personnel will respond in minutes. Appropriate action will be taken immediately.
TRANSPORTATION, PARKING AND STORAGE
Regularly scheduled transportation is available to local shopping areas, including business, medical offices and including San Francisco. Excursions to museums, the theater, and other special events in Marin and San Francisco are regularly planned. You can attend the ballet, opera, symphony and live theater performances practically next door at the Marin Civic Center.
Reserved parking is be provided to each Resident. Underground garage parking is available. Villas have a 2-car garage attached.
Each Resident will also be assigned a Storage Unit located in the Building they live in
  The Choice For Health and Wellness is Yours
In keeping with the Smith Ranch Homes' concept of independence and freedom of choice, you may choose when, where and from whom you receive healthcare
The Wellness  Office,  conveniently  located in the Clubhouse,  provides the Wellness Program, offering a variety of services to keep you healthy and fit.
Exercise programs in the Fitness Center/Community Room
Aquatic Fitness programs
Wellness lectures
Referrals to care providers/agencies
Minor first aid, routine wound care & dressing changes
Blood pressure checks
Sharps & expired medication disposal
Referral information for Primary Care Providers & Specialists
Dermatologist & Podiatrist office hours
Assistance with scheduling medical appointments & tests
Assistance with appointments for laboratory testing
Smith Ranch Skilled Nursing & Rehabilitation Center
A skilled nursing and rehabilitation center, owned and operated by Generations Healthcare, is located near Smith Ranch Homes on Silveira Parkway.  You are encouraged to visit their center to learn about the services they provide.